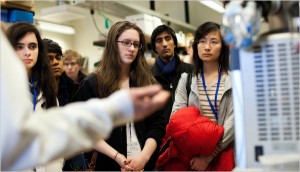 There's a great article in today's New York Times describing the recent rise in enrollments in computer science — spurred in part by "Hollywood's portrayal of the tech world, as well as celebrity entrepreneurs like Steven P. Jobs of Apple and [Mark] Zuckerberg [of Facebook] who make products that students use every day."
On the rise in enrollments:
The number of computer science degrees awarded in the United States began rising in 2010, and will reach 11,000 this year, after plummeting each year since the end of the dot-com bubble in 2004, according to the Computing Research Association, which tracks enrollment and degrees… The number of students who are pursuing the degree but have not yet declared their major increased by 50 percent last year.
On the job market:
Still, computer science graduates do not come close to filling the jobs available. Technology is one of the few bright spots in the economy, with jobs growing at double the rate of job growth over all, according to federal statistics. And colleges say they do not have enough resources or professors to teach interested students.
On the new curriculums computer science departments are developing in response to the surge:
To capitalize on the growing cachet of the tech industry, colleges nationwide, including Stanford, the University of Washington and the University of Southern California, have recently revamped their computer science curriculums to attract iPhone and Facebook-obsessed students, and to banish the perception of the computer scientist as a geek typing code in a basement.

The new curriculums emphasize the breadth of careers that use computer science, as diverse as finance and linguistics, and the practical results of engineering, like iPhone apps, Pixar films and robots, a world away from the more theory-oriented curriculums of the past…

To hook students, Yale computer science professors are offering freshman seminars with no prerequisites, like one on computer graphics, in which students learn the technical underpinnings of a Pixar movie…

Professors stress that concentrating on the practical applications of computer science does not mean teaching vocational skills like programming languages, which change rapidly. Instead, it means guiding students to tackle real-world problems and learn skills and theorems along the way.

"Once people are kind of subversively exposed to it, it's not someone telling you, 'You should program because you can be an engineer and do this in the future,' " said [Keila Fong, a junior at Yale University]. "It's, 'Solve this problem, build this thing and make this robot go from Point A to Point B,' and you gain the skill set associated with it."

With other students, she has already founded a Web start-up, the Closer Grocer, which delivers groceries to dorms.

Some question whether the surge in interest is a passing fad fueled by frenzy over iPhone apps and LinkedIn's soaring initial public offering, just as enrollment in computer science spiked during the dot-com bubble of the late 1990s.
And on the trend itself:
But educators say this time is different.

"What we're seeing now is a better-motivated upsurge," said Ed Lazowska, a professor of computer science and engineering at the University of Washington, "students who understand that they really need to know this material."

And the movie can't hurt, he said, because at least it has transformed the image of a programmer. Computer scientists are finally getting the treatment that doctors got with "Grey's Anatomy" and reporters with "All the President's Men."

"We've been saying for 15 years, 'If we could just get a show like the lawyer and doctor shows that make being a software person sexy,' " Mr. Lazowska said.
For more stats on enrollments in computer science as well as the job market, click here and here.
(Contributed by Erwin Gianchandani, CCC Director)