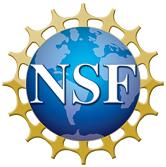 The NSF's CISE and Biological Sciences (BIO) directorates have joined forces to seek interdisciplinary proposals that further the frontiers of both fields. In a recent Dear Colleague Letter (DCL) for Biological and Computing Shared Principles:
The [BIO and CISE directorates] invite proposals that advance research focused on principles shared between the two disciplines. Proposals that include sustained, synergistic collaborations, leading to new advances in both disciplines, will be the most competitive. Proposals should address shared principles that contribute to conceptual advances in both biology and computing. We recognize that new ideas are emerging rapidly at the crossroads of the biological sciences and computing, and we encourage investigators to pursue novel focus areas that identify shared principles. Potential topics could include, but are not limited to:

Knowledge extraction
Cross-scale/Multi-scale information flow, processing, and analysis
Adaptation to unanticipated novel conditions
Robustness and reliability
Representations and coding
Integrated and continual learning
Self-repair and maintenance
Pattern recognition and pattern generation
Network structure, function and dynamics
Functions of stochasticity
Co-evolution and defense against adaptive adversaries
Molecular computation
Theoretical biology and theory of biological computation
The DCL is expected to remain in effect through FY 2014. Proposals should be submitted to existing programs, such as Cyber Physical Systems (CPS), CAREER, and all core programs within CISE and BIO.
For more details, see the DCL as well as the Biological and Computing Shared Principles website.
(Contributed by Erwin Gianchandani, CCC Director)