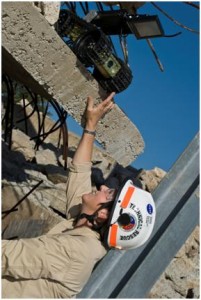 In light of the tornadoes that have devastated parts of the Midwest and South over the past several weeks, Robin Murphy — the Raytheon Professor of Computer Science and Engineering at Texas A&M University (and a member of the CCC Council) — was asked by The Washington Post to participate in a live web chat on Wednesday to describe how robots can assist in search and rescue missions. Murphy noted that robots can help detect signs of life in otherwise inaccessible or dangerous disaster environments — ranging from deep, dark crevasses created by piles of debris to site that are submerged under water:
We try to match the best robots for the responders' needs through our humanitarian Roboticists Without Borders program. I was in Japan twice recently, once to assist with mission planning for the [unmanned aerial vehicles (UAV)] that inspected the Fukushima reactors and once bringing a team of [remotely-operated vehicles (ROVs)] to help open a fishing port and to conduct recovery operations in towns north of Sendai.
Read the full transcript of the live web chat here.
(Contributed by Erwin Gianchandani, CCC Director)