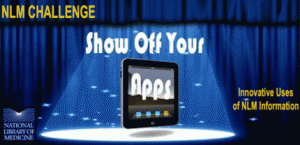 The National Library of Medicine has announced a software development challenge, seeking innovative software applications that use the library's vast and free biomedical data. The goal is to further the agency's "mission of supporting the dissemination and exchange of biomedical information to foster scientific discovery, enhance clinical care, and improve public health." Entries are due by August 31, 2011 — and winners will be recognized at an awards ceremony at NLM in early November.
The National Library of Medicine (NLM), part of the National Institutes of Health, invites people to show off their apps. NLM is challenging people to create innovative software applications that use the Library's vast collection of biomedical data, including downloadable data sets, application programming interfaces (APIs), or software tools-all of which are free and available for public use.

NLM is the world's largest medical library and the producer of electronic information resources used by millions of people around the world every day-including scientists, health professionals, and the general public. Since its founding in 1836, NLM has changed the way scientific and medical information is organized, stored, accessed, and disseminated…

The contest is open to individuals over the age of 18, teams of individuals over the age of 18, and organizations in the United States. Submissions may be any kind of software application-be it for the Web, a personal computer, a mobile handheld device, console, or any platform broadly accessible on the open Internet…

To explore the NLM data required for the contest, please browse the list of NLM databases and electronic resources, as well as the list of NLM APIs.
For more information, visit the contest website or contact NLMDataChallenge@nlm.nih.gov.
(Contributed by Erwin Gianchandani, CCC Director)