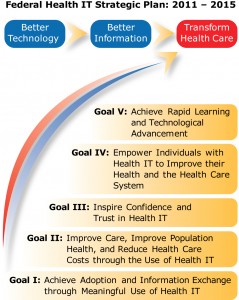 The Office of the National Coordinator for Health Information Technology (ONC) — which last year announced four $60 million Strategic Health IT Advanced Research Projects (SHARP) — is seeking public comment on its Federal Health IT Strategic Plan for 2011-2015:
The Plan starts in 2011, the year when medical care entered a new era — the age of meaningful use. This new era creates opportunities to transform the health care system by improving the flow of information through health IT. Meaningful use is currently aimed at widespread adoption and information exchange, and ultimately at improving health care outcomes. The Plan demonstrates how we will build off the foundation of meaningful use to unlock the power of information to:

Enhance our ability to study care delivery and payment systems
Empower individuals to improve and participate more in their care
Improve care, efficiency, and population health outcomes, through tools such as clinical decision support, real-time feedback of performance to clinicians, and targeted public health campaigns

Some components of the Plan may already be familiar, including the Medicare and Medicaid Electronic Health Record Incentive Programs and the grant programs created by the HITECH Act, which are creating an infrastructure to support meaningful use. However, the Plan also charts new ground for the federal health IT agenda:

In Goal I, the health information exchange strategy focuses on first fostering business models that create health information exchange, supporting exchange where it is not taking place, and ensuring that information exchange takes place across different business models.
In Goal II, we discuss how integral health IT is to the National Health Care Quality Strategy and Plan that is required by the Affordable Care Act.
In Goal III, we highlight efforts to step up protections to improve privacy and security of health information, and discuss a major investment in an education and outreach strategy to increase the provider community and the public's understanding of electronic health information, how their information can be used, and their privacy and security rights under the HIPAA Privacy and Security rules.
In Goal IV, we recognize the importance of empowering individuals with access to their electronic health information through useful tools that can be a powerful driver in moving toward more patient-centered care.
In Goal V, we have developed a path forward for building a "learning health system," that can aggregate, analyze, and leverage health information to improve knowledge about health care across populations.
Other areas of fundamental research — in which computing can and should play a significant role — are also described. For example, included in the Strategic Plan:
The Networking and Information Technology Research and Development (NITRD) Program coordinates federal research and development investments in computing, networking, and software. As required under the HITECH Act, NITRD is developing a program and strategic plan to coordinate research and development relating to health IT. This work will make the pursuit of important opportunities for technology breakthroughs through coordinated inter-agency initiatives possible, and will ensure that programs of different agencies are non-redundant and mutually reinforcing.
I encourage you to review the report and submit comments electronically by next Friday, April 22, 2011. For more information, click here.
New National Coordinator for Health IT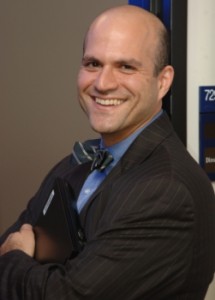 Meanwhile, Secretary of Health and Human Services Kathleen Sebelius last week named Farzad Mostashari the new National Coordinator for Health IT. Mostashari, who succeeds David Blumenthal, has been with ONC since July 2009. He was previously assistant commissioner for a primary-care information project at the New York City Health and Mental Hygiene Department.
(Contributed by Erwin Gianchandani, CCC Director)