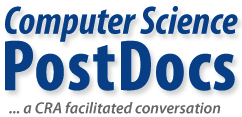 "A funding ecosphere that allowed, or possibly even encouraged, a postdoctoral position (or, in some cases, a stint in an industrial research lab or another industrial position) before taking an academic job seemed beneficial, from the standpoint of allowing many researchers freedom and flexibility.  [But] a setting where such positions came to be seen as mandatory seemed very worrisome, especially if it created an atmosphere where multiple sequential postdoctoral appointments became the norm."
That's just a snippet of what the computing research community is saying in response to the Computing Research Association (CRA)-led white paper on PostDocs.  As you'll recall, in early February, the CRA launched an effort to engage the computing research community in a conversation about PostDocs, at a time when a growing number of recent PhDs in computer science and allied fields are pursuing postdoctoral fellowships.
Some other responses:
We need to develop mechanisms that promote the value of post-docs. For example, some students spoke of a stigma they felt when asking about the availability of post-docs. From the students' perspective, sometimes they felt that their asking for a post-doc was read as being a failure to find a faculty position.
Unlike biology, where postdocs can last a much longer time spanning several institutions, and unlike computer science, where postdocs are perhaps still stigmatized, computational biology postdocs appear to be relatively shorter, more well-accepted, and frequently lead quickly to successful top-tier faculty positions.
The postdoc period, with its flexible hours and focused responsibilities, is also an excellent time for postdocs to start a family. Mentors should expect this, and it should be viewed as a normal part of the postdoc experience. Post-doctoral fellowships (and benefits packages) should include family leave provisions (which they currently do not, in my experience).
…we should also realize that the vast majority of Ph.D.s who end up in academia will not have careers at the elite research-oriented universities, and we should consider how postdocs can help them to have successful and productive careers as well.
To me a postdoc serves a very useful role as an intermediary between me and a graduate student. I don't think of the two roles as substitutes, but rather as complementary. A brief meeting between me, a postdoc and a graduate student (all working on the same project/problem), followed up by more extensive discussions between postdoc and graduate student seem to a more efficient use of everyone's time.
Here's a simple test: as long as the number of post-docs per person is limited to a maximum of 1, we can avoid the abuse of the position seen in other fields.
…a CS PhD already has something akin to a traditional post-doc built in. It takes 6+ years, and the student is expected to write papers and be a participant in his/her professional community, e.g., by presenting at conferences.
What are your thoughts?   We encourage you and your colleagues within your departments or laboratories to review the white paper the CRA posted, discuss the issue, and post your views (collectively or individually) on the website — http://cra.org/postdocs.  Feel free to comment below, too.  The committee would like your input by next Tuesday, March 15th.
(Contributed by Erwin Gianchandani, CCC Director)