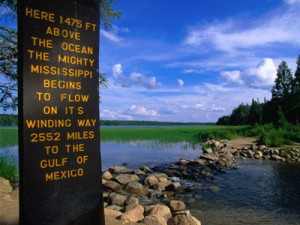 As we've blogged in this space before, the CCC has sponsored a series of "research visions" sessions at computing research conferences over the past year — hoping to provide venues for sharing and discussing forward-looking, visionary ideas for the field, without the constraints of the typical reviewing process.  The CCC is pleased to announce another "crazy ideas" session, this time at the 12th International Symposium on Spatial and Temporal Databases in Minneapolis this August.
Teaming with our colleagues at the University of Minnesota who are leading the organizing committee, the CCC will award travel awards to the first-, second-, and third-placing paper submissions.  Here's some background on the "Headwaters Awards":
SSTD 2011 is pleased to announce the CCC Headwaters awards.  We will provide prizes for the first-, second-, and third-placed papers/presentations on the basis of the papers and subsequent presentations.  These prizes will take the form of travel reimbursement awards, and amount to $1,000, $750, and $500 for first, second, and third place, respectively.

We believe that many papers in the challenges and visions track will be headwaters for influential rivers of followup discoveries, inventions and research papers.  Thus, the award is named after the Mississippi headwaters, where, the mighty Mississippi river starts as a humble stream on a 2000+ mile journey to become one of the longest and most powerful rivers in the world.  The Mississippi headwaters are located in the Itasca State Park, a few hours drive from the SSTD 2011 venue.

Coincidentally, the acronym CCC stands not only for the Computing Community Consortium, but also the Civilian Conservation Corps, which developed Mississippi headwater area as part of the New Deal under President Franklin D. Roosevelt.
Be sure to review the full call for vision/challenge papers.  We welcome your submissions — due by March 11th.
By the way, if you or your colleagues would like to run a research visions session at an upcoming conference, please contact the CCC today!
(Contributed by Erwin Gianchandani, CCC Director)