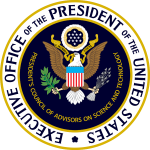 As previously noted in this space, on Thursday, December 16th at 2:15 p.m. EST, the President's Council of Advisors on Science and Technology (PCAST) will release and discuss its report entitled "Designing a Digital Future:  Federally Funded Research and Development in Networking and Information Technology." This Congressionally-mandated report assesses the status and direction of the Federal Networking and Information Technology Research and Development (NITRD) program — a 14-agency, $4.3 billion enterprise that comprises the government's unclassified networking and information technology R&D investments.
An announcement of this important event for our community, along with a link to the live webcast, and, following the event, a copy of the report and a web archive of the event, can be found on the PCAST home page:  http://www.whitehouse.gov/administration/eop/ostp/pcast.
This report to the President and Congress will describe the role of networking and information technology research and development — where our field fits in the nation's overall priorities, and in the nation's science and technology framework.  The report fits within this broad policy context, rather than providing specific details regarding any particular subfield.
Scores of experts from inside and outside of government, and from inside and outside of our field, were consulted by the 14-member Working Group that assisted PCAST in the preparation of the report.  (Full disclosure:  Ed Lazowska, CCC Council Chair, served as co-chair of this Working Group.)