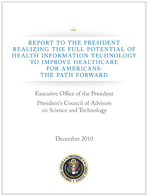 The President's Council of Advisors on Science and Technology (PCAST) on Wednesday released a report on health information technology titled "Realizing the Full Potential of Health Information Technology to Improve Healthcare for Americans:  The Path Forward."  The report "calls for adoption of a universal exchange language to mobilize data, improve healthcare, enhance privacy, and cut costs."  Meantime, PCAST yesterday announced that a Congressionally-mandated biennial review of the NITRD program will be released next Thursday afternoon.
During Wednesday's health IT report roll-out at the Department of Health and Human Services, PCAST co-chair Eric Lander said, "The United States spends more on healthcare as a fraction of gross domestic product than any other industrialized nation, yet we lag on critical measures such as life expectancy and infant mortality.  Information technology has the potential to vastly improve patient care and create new markets based on health care innovation…"
Though the health IT report does not specifically address basic research questions, many of its themes about the significance of health IT are consistent with those articulated in a previous CCC white paper that calls for Federal investment in research & development in this space.  For example, the PCAST report argues for the critical need to "change the fact that health IT has historically been oriented toward administrative functions, not better care," and emphasizes the potential of real-time, real-world, comprehensive data in enhancing the way we deliver care to patients.  Among the possible positive impacts of health IT highlighted by the PCAST report:
– Integrate technology into the flow of clinical practice as an asset, while minimizing unproductive data entry work.
– Give clinicians real-time access to complete patient data, and provide them with information support to make the best decisions.
– Help patients become more involved in their own care.
– Enable a range of population-level public health monitoring and real-time research.
– Improve clinical trials, leading to more rapid advances in personalized medicine.
– Streamline processes, increase their transparency, and reduce administrative overhead, as it has in other industries.
(For more on the role of basic research in each of these, check out our previous blog post on the need for large-scale, comprehensive, coordinated, collaborative, and multi-disciplinary basic research investment in health information technology.)
As an important aside, Larry Summers, the Director of the National Economic Council, delivered impassioned remarks about the significance of information technology to the nation's economy:
If you look at the economic history of the last 150 years, it's a lot about the steam engine, it's a lot about electricity, it's a lot about things that came from the automobile – all of which gave people capacities to do things they hadn't done before and touched almost every aspect of economic life.  And this generation's technology is information technology with all that it makes possible, and we need to make sure that it is as exploited as widely and as pervasively as possible.  And what better time to accelerate investment in information technology than at a time of substantially unemployed resources that can be put to work providing jobs that are important in the short term and providing capacities that are profoundly important in the long run.
For more info, check out the health IT report here.
The NITRD review is set to be released next Thursday.  We'll talk about it here as well as on CRA's Policy Blog following the release.
(Contributed by Erwin Gianchandani, CCC Director)