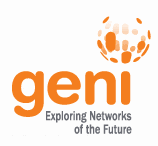 Those of you who haven't taken a look at the GENI project in the last year or two need to do so.
The name is the same, but the project is totally different, and totally right-headed.  Teams of top researchers are building a diverse suite of tools and technologies that will allow a broad range of networking research experiments to be carried out.  As an example, a set of research universities and research backbone networks are in the process of rolling out Stanford's OpenFlow switches, which will allow novel low-level protocols to be run alongside TCP/IP.  More than 200 research leaders attended the 7th GENI Engineering Conference, held March 16-17 at Duke University.
The purpose of this post is to bring to your attention a new "Call for White Papers" for a GENI Experimenters Workshop to be held at Princeton University on June 29-30.  This is a great chance to get on board a train that is moving rapidly and in a really interesting direction.