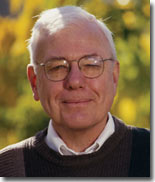 Chuck Thacker has won the ACM A.M. Turing Award (quoting ACM) "for his pioneering design and realization of the Alto, the first modern personal computer, and the prototype for networked personal computers.  Alto incorporated bitmap displays, which enable modern graphical user interfaces, including What You See Is What You Get editors.  Thacker's design, which he built while at Xerox PARC, reflected a new vision of a self-sufficient, networked computer on every desk, equipped with innovations that are standard in today's models."
ACM announcement here.  Microsoft announcement (a wonderful profile of Chuck) here.  Terrific 6-minute interview on NPR's All Things Considered here.
Congratulations Chuck, and thanks for being an inspiration to all of us!