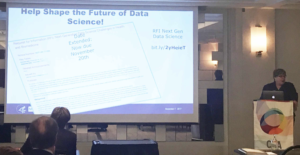 National Library of Medicine Director Patti Brennan spoke at the Computing Community Consortium (CCC) Leadership in Science Policy Institute (LiSPI) this morning and strongly urged computer scientists to respond to this Request for Information (RFI) to Help Shape the Future of Data Science! 
The deadline has been extended to November 20th, 2017!
On behalf of the National Institutes of Health (NIH), the National Library of Medicine (NLM) seeks community input on new data science research initiatives that could address key challenges currently faced by researchers, clinicians, administrators, and others, in all areas of biomedical, social/behavioral and health-related research. The field of data science is broad in scope, encompassing approaches for the generation, characterization, management, storage, analysis, visualization, integration and use of large, heterogeneous data sets that have relevance to health and biomedicine. Data science undergirds the broad and interdependent objectives of the NIH Strategic Plan.

Information about data science research directions that could lead to breakthroughs in any or all NIH interest areas is welcomed, whether applicable across wide swaths of health and biomedicine, or focused on particular research domains.
Information Requested
NLM requests information on the three focal areas listed below:
Promising directions for new data science research in the context of health and biomedicine.  Input might address such topics as Data Driven Discovery and Data Driven Health Improvement.
Promising directions for new initiatives relating to open science and research reproducibility. Input might address such topics as Advanced Data Management and Intelligent and Learning Systems for Health.
Promising directions for workforce development and new partnerships. Input might address such topics as Workforce Development and Diversity and New Stakeholder Partnerships.
Within these general topic areas, or others related to data science in health and biomedicine, NLM invites researchers, clinicians, organizations, industry representatives and other interested parties to provide input on:

Research areas that could benefit most from advanced data science methods and approaches;
Data science methods that need updating, or gap areas where new approaches are needed;
Priorities for new data science research;
Appropriate partnerships and settings for expanded data science research.
How to Submit a Response
Response to this RFI must be submitted here, by November 20, 2017. Responses should be provided in a narrative form of up to 3 pages per topic, with links to pertinent supplemental information if needed. No attachments will be accepted. No proprietary, classified, confidential, or sensitive information should be included in your response.
For more information, please direct all inquiries to:
Valerie Florance, PhD
National Library of Medicine (NLM)
Telephone: 301-496-4621
Email: NLMEPInfo@mail.nih.gov