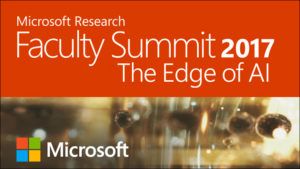 The Microsoft Research Faculty Summit will be live streamed from Redmond, Washington on Monday, July 17 and Tuesday, July 18. This free online event offers keynotes and selected presentations from the Faculty Summit on artificial intelligence research, "The Edge of AI."
Panels on both days will cover a range of AI topics, including machine learning; human language technologies; perception and sensing; AI and society; systems, tools and platforms; Integrative intelligence; cyber-physical systems and robotics; human/AI collaboration; and decision making.
Speakers will include:
Sessions on both days will begin at 7:30 AM PDT (10:30 AM EDT) and run until 6 PM PDT (9 PM EDT).
See the agenda to learn more.