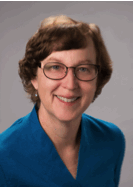 This week the National Academy of Engineering (NAE) announced that they had elected 84 new members and 22 new foreign members. This brings the total U.S. membership to 2,281 and the number of foreign members to 249.
As noted in the CRA Bulletin earlier this week, a number of computer scientists were elected including CCC Council member Katherine (Kathy) Yelick, a Professor of Electrical Engineering and Computer Sciences at UC Berkeley and the Associate Laboratory Director (ALD) for Computing Sciences at Lawrence Berkeley National Laboratory.
Kathy has been a vibrant and influential member of the CCC Council since she joined in July 2015. She is on the Convergence of Data and Computing Task Force, which leads activities at the intersections of Big Data, High Performance Computing, and the future of HPC. This task force has released two white papers for the community, both of which Kathy has been a co-author. One is called Opportunities and Challenges for Next Generation Computing, it discusses potential opportunities enabled by radical increases in computing performance with decreased power and suggests some possible pathways to achieve these ends. The other white paper is called Accelerating Science: A Computing Research Agenda, it seeks to articulate a research agenda for developing cognitive tools that can augment human intellect and partner with humans on the scientific process.
Congrats, Kathy!