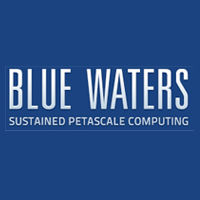 Applications are now being accepted for Blue Waters Graduate Fellowships and Undergraduate Internships. 
Blue Waters is a truly extraordinary supercomputer used by researchers across the country to gain new understanding of how viruses attack our bodies, the formation of galaxies and of severe storms, space weather, sub-atomic physics, and other challenging topics. Blue Waters was designed to handle the most compute-intensive, memory-intensive, and data-intensive challenges in computational science and engineering.
Blue Waters Graduate Fellowship Program
The Blue Waters Graduate Fellowship Program lets graduate students from across the country immerse themselves in a year of focused high-performance computing (HPC) and data-intensive research using the Blue Waters supercomputer to accelerate their research.
This unique program, funded by the National Science Foundation, is designed to support PhD students engaged in a program of study and research that is directly relevant to the use of Blue Waters as the fellowship provides up to 50,000 node-hours on the Blue Waters system.
Fellowship recipients will receive a stipend of $38,000 for the year-long fellowship. They will also receive up to a $12,000 tuition allowance. During the fellowship year, the fellow's academic institution is asked to exempt the recipient of any other tuition and fee charges normally charged to students of comparable academic standing. Recipients will receive travel funds to attend the Blue Waters symposium.
Applications, including all supporting materials except reference letters, must be submitted no later than 11:59 PST on Feb. 3, 2017. Awards will be announced in spring 2017, with the tuition allowance applied to the 2017-2018 academic year.
For complete information on the fellowship and to see profiles of past recipients, please visit this website.
Blue Waters Student Internship Program
The Blue Waters Student Internship Program (BWSIP) is actively seeking faculty and students to participate in year-long student internship opportunities. Students in the program will gain experiences involving the application of high-performance computing to problems in science, mathematics or engineering.
The program provides a student stipend for undergraduate participants totaling $5,000, a two-week intensive Petascale Institute in 2017, access to the Blue Waters supercomputer, and, for a select number of interns who have excelled during the year, travel to the Blue Waters Symposium 2018.
This program provides support for internship activities at any accredited degree granting institution in the United States. Faculty who would like to mentor an undergraduate student can post descriptions of available positions. Positions can be intended for a particular applicant or opened to all qualified applicants. Students must submit an application for consideration.
Applications must be submitted by Feb. 1, 2017. Faculty can create internship positions and students can start their application here.
To learn more about both opportunities, please see the Blue Waters Website.