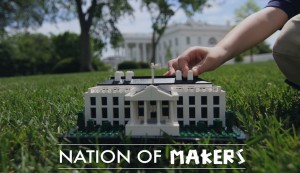 Contributions to this post were provided by Meredith M. Lee, Executive Director of the West Data Hub from UC Berkeley.
President Obama released a proclamation announcing June 17 through June 23, 2016 as National Week of Making. He called upon all Americans to observe this week with programs, ceremonies, and activities that encourage a new generation of makers and manufacturers to share their talents, solutions, and skills.
From the press release:
During National Week of Making, we recommit to sparking the creative confidence of all Americans and to giving them the skills, mentors, and resources they need to harness their passion and tackle some of our planet's greatest challenges… Over the last 6 years, we have added over 800,000 manufacturing jobs and introduced next-generation manufacturing hubs… We must prepare young people for the jobs of the future by equipping them with the analytical skills needed to solve problems and the computer science and hardware development skills required to power our innovation economy.
Obama remarked on the importance of supporting science, technology, engineering, and mathematics (STEM) education, calling out computer science in particular, since that will allow students to unlock their full potential and become the inventors of tomorrow.
The Computing Community Consortium (CCC) has been involved in the maker movement from the beginning. In 2014, the CCC hosted a series of workshops around the Visions 2025 initiative that was intended to inspire the computing community to envision future trends and opportunities in computing research. One of these workshops was The New Making Renaissance: Programmable Matter and Things, in June 2014. This workshop explored the potentially disruptive role of "making" tangible computational objects on traditional notions of craftsmanship, mass customization, human-machine interaction, and computing research and education. The results of this workshop highlighted the interdisciplinary foundations of this new field, which go far beyond the sub-fields of computing, and the demand for new educational models that would promote interdisciplinary thinking and problem solving with a genuine degree of "making."
The West Big Data Hub, which is one of the four National Science Foundation (NSF) Big Data Regional Innovation Hubs that the CCC is fostering an industry-academic collaboration through, has also been answering the President's Call to Action. Building upon a National Day of Civic Hacking event that produced a live-updated Maker Map, the West Hub is developing a Data Scientist Map to visualize the growing community of data innovators across the nation. The map will capture social media content and connect to an open data set that researchers can use to identify potential collaborators in industry, academia, nonprofits, and government.
In addition, as part of their Data-Driven Storytelling initiatives with DataScience, Inc., the West Hub is highlighting projects leveraging sensors, citizen science, and the Maker Movement to advance their thematic areas such as Natural Resource Management and Metro Data Science. Last week, the West Hub's first Data-Driven Storytelling Workshop convened leaders from the City of Los Angeles, The Los Angeles Times, The New York Times, and over 700 registered attendees to share best practices. Maker-related topics of discussion included real-time sensors for improved traffic routing and low-cost data collection for firefighter situational awareness.
Happy National Week of Making!