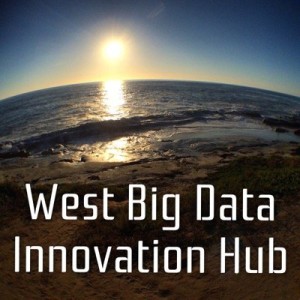 Contributions to this post were provided by Meredith M. Lee, Executive Director of the West Data Hub from UC Berkeley.
On Thursday June 16th, the West Big Data Innovation Hub and DataScience, Inc. will co-host a workshop titled "The Science of Data-Driven Storytelling" in Culver City, California. The West Big Data Hub is one of four National Science Foundation (NSF) sponsored Big Data Regional Innovation Hubs that the Computing Community Consortium (CCC) is partnering with to sponsor a program on Industry-Academic Collaboration. The CCC asked each Hub to create a plan aligned with their region's needs and opportunities to foster partnerships, benefitting early career academic researchers as well as the Hubs. Featured activities include workshops, faculty internships, student internships, site visits, hackathons, and lecture series.
About this week's workshop: Data has become an increasingly important communication tool across every industry. That's because, when explained effectively, the right data shared through the right channels can spark high levels of public engagement, collaboration, and awareness. 'The Science of Data-Driven Storytelling' workshop is designed to help our data science innovators increase the scale and impact of their projects. Participants will get a behind-the-scenes look at lessons learned and best practices from industry experts and fellow data enthusiasts.
The workshop will run from 12 p.m. – 4 p.m. Pacific Time on June 16th. The livestreamed portion of the event, from 12 p.m. to 2:30 p.m., will feature an interactive panel and speakers including the Chief Data Officer of the City of Los Angeles, representatives from the Los Angeles Department of Transportation, The Los Angeles Times, The University of Southern California, Polygraph.cool, and Project Jupyter. Participants convening in-person will then develop and refine their own data narratives with feedback from experts and their peers.
We're really excited to have several early career researchers leveraging the CCC sponsorship to join us and focus on the important skill of data-driven storytelling," notes Meredith Lee, Executive Director of the West Big Data Innovation Hub. "The workshop will connect data enthusiasts from industry, government, nonprofits, and academia to learn from each other and strengthen a community of practice.
The conversation will continue on social media throughout the day and at an evening event, "Changing the World with Data Stories", that will give workshop attendees the opportunity to network with the broader Los Angeles data science community. The evening program includes luminaries from The New York Times, The Los Angeles Times, and over 150 participants who will discuss examples of data-driven narratives ranging from city street data and officer-involved shootings to gender in film and political campaigns.
Learn more by following #datascistories and register to attend this exciting workshop either in person or virtually here!