The Computing Research Association (CRA), in consultation with the National Science Foundation (NSF), has appointed four new members to the Computing Community Consortium (CCC) Council:
Beginning July 1, the new members will each serve three-year terms. The CCC Council is comprised of 20 members who have expertise in diverse areas of computing. They are instrumental in leading CCC's visioning programs, which help create and enable visions for future computing research. Members serve staggered three-year terms that rotate every July.
The CCC and CRA thank those Council members whose terms end on June 30 for their exceptional dedication and service to the CCC and to the broader computing research community:
The CCC encourages participation from all members of the computing research community. Each fall, the CCC issues a call for proposals for visioning activities. Each spring, the CCC issues a call for nominations for Council members effective the following July. For more information, please visit the CCC website or contact Dr. Ann W. Drobnis, CCC Director, at adrobnis@cra.org.
Full Bios of New CCC Council Members
Sampath Kannan
Sampat

h Kannan is the Henry Salvatori Professor and Department Chair in the Department of Computer and Information Science at University of Pennsylvania. He is also a Fellow of the ACM and a recipient of the ACM SIGACT Distinguished Service Award. His research spans several subfields in algorithms –  algorithms on massive data sets,  algorithms for checking the correctness of outputs produced by programs, algorithms in computational biology for the reconstruction of the evolutionary history of a set of species, and most recently, algorithms and mechanisms for computing desired outcomes while preserving the privacy of participants' data. For additional information, please visit his 

website

.
Maja Mataric
Maja Mataric is the Chan Soon-Shiong Professor of Computer Science, Neuroscience, and Pediatrics at the University of Southern California, founding director of the USC Robotics and Autonomous Systems Center and her Interaction Lab. She received a PhD and MS from MIT and BS from the University of Kansas. She is Fellow of AAAS, IEEE, and AAAI, and recipient of the Presidential Award for Excellence in Science, Mathematics and Engineering Mentoring, Anita Borg Institute Women of Vision Award in Innovation, NSF Career, MIT TR35 Innovation, and IEEE RAS Early Career Awards. She is passionate about K-12 STEM outreach. Her research into socially assistive robotics enables robots to help in therapy, rehabilitation, training, and education for children with autism, stroke survivors, Alzheimer's patients and other special needs populations. For additional information, please visit her website.
Nina Mishra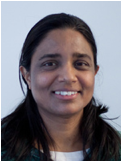 Nina Mishra's research interests are in data science, data mining, web search, machine learning and privacy. She has over 16 years of experience leading projects in industry at Microsoft Research and HP Labs and over 6 years of experience in academia as Associate Professor at the University of Virginia and Acting Faculty at Stanford University. The projects that she pursues encompass the design and evaluation of new data mining algorithms on real, colossal-sized datasets. For additional information, please visit her website.
 Holly Rushmeier
Holly Rushmeier received the BS, MS and PhD degrees in Mechanical Engineering from Cornell University in 1977, 1986 and 1988 respectively. She is a professor in the Yale Department of Computer Science. Her research interests include shape and appearance capture, applications of perception in computer graphics, modeling material appearance and developing computational tools for cultural heritage. For additional information, please visit her website.