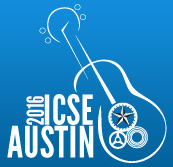 The 38th International Conference on Software Engineering 2016 (ICSE) — the premier conference in software engineering sponsored by ACM and IEEE CS — is coming to Austin, Texas for a second time in May 14 – 22, 2016.
There, the top minds in software engineering research and practice will convene for a week of inspirational talks, demos and conversation. A quarter-century after the Texas state capital first hosted ICSE, Austin has become a hub for technology, entrepreneurship, music, outdoor recreation and nightlife. 
Please mark your calendars and register for the conference here, the early registration deadline is Monday, April 04, 2016!
An overview of the ICSE 2016 week is available here.
Keynotes Speakers 
If you would like to get added to the ICSE publicity list (to receive further information on deadlines and contribution possibilities) please visit this website. For questions please contact: icse2016@icse-conferences.org