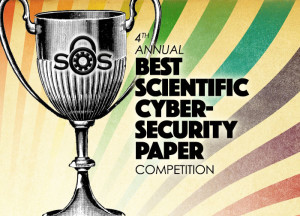 The National Security Agency is seeking nominations for its Annual Best Scientific Cybersecurity Paper Competition.
The 4th competition is open for nominations until March 31st, 2016 for any peer reviewed paper published in 2015. Entries are judged on scientific merit, the strength and significance of the work reported, and the degree to which the papers exemplify how to perform and report scientific research in cybersecurity.
This year's nominations will be reviewed by a panel of distinguished experts including:
·         Dr. Whitfield Diffie, 2016 Turing Award Winner
·         Dr. Dan Geer, In-Q-Tel
·         Dr. John McLean, Naval Research Laboratory
·         Professor Angela Sasse, University College London
·         Professor Fred Schneider, Cornell University
·         Mr. Phillip Venables, Goldman Sachs
·         Professor David Wagner, University of California at Berkeley
·         Dr. Jeannette Wing, Microsoft Research
The competition was created to stimulate research toward the development of systems that are resilient to cyber attacks as part of the Science of Security (SoS) Initiative.
Papers may be nominated by anyone other than the author or co-authors. Please see the competition website and the NSA Announcement for more information regarding the history, previous winners, eligibility criteria, nomination procedures, criteria for judging, and how to submit nominations.