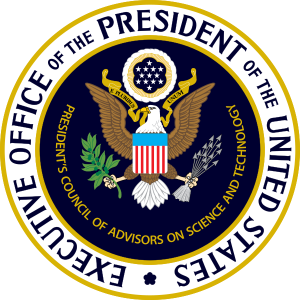 The next public President's Council of Advisors on Science and Technology (PCAST) meeting will be this Tuesday, July 14, 2015 from 9:00 AM -12:00 PM ET at the National Academy of Sciences, 2101 Constitution Avenue, NW, Washington, DC.
Online registration for the meeting is now OPEN. While registration is not required to attend this meeting, seating is limited, and preference will be given to those who registered in advance online.  The meeting will also be webcast.
This meeting is particularly important for the computer science community, as it includes the Review of the Networking and Information Technology Research and Development (NITRD) program.  This presentation will be led by Eric Schmidt and J. Michael McQuade, Members of PCAST and Greg Hager, Professor and Chair of Computer Science at Johns Hopkins University and Chair of the Computing Community Consortium (CCC).
The meeting will be webcast using this link. It will go live the day of the meeting.
For more information, please see the PCAST website.