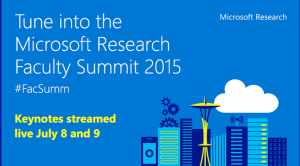 The 2015 Microsoft Research Faculty Summit will be streamed live from Redmond, Washington on Wednesday, July 8 and Thursday, July 9. This free online event offers keynotes and selected presentations from the Faculty Summit on future trends in computer science research.
This year's event, which focuses on Artificial Intelligence, includes former Computing Community Consortium (CCC) Council Member and now Microsoft Research Managing Director, Eric Horvitz. Eric recently posted a CCC blog post on the Benefits and Risks of Artificial Intelligence.
The Summit will feature three keynote speakers and a panel:
July 8:
July 9:
For more information, please see the Faculty Summit 2015 website.