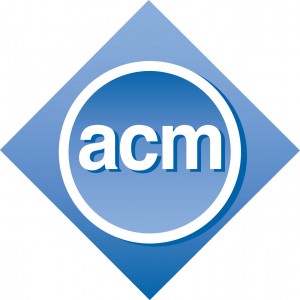 The Association for Computing Machinery (ACM), has named Robert ("Bobby") Schnabel executive director and CEO effective November 1, 2015. Schnabel joins ACM after eight years as professor and dean of the School of Informatics and Computing at Indiana University. He is a graduate of Dartmouth College in Mathematics, Schnabel earned his Master's degree and his Ph.D. in Computer Science from Cornell University. He is also a former Computing Research Association (CRA) Board Member and co-chaired the Computing Community Consortium (CCC) Computing Innovation Fellowships (CI Fellows) 2014 workshop.
From ACM's Press Release:
As ACM's most senior staff member, Schnabel will work with ACM's volunteer community to provide strategic vision and to develop sustainable business models to ensure ACM's continued worldwide membership, publications and revenue growth.

"I am extremely excited to have Bobby take up the CEO role at ACM," said ACM President Alexander L. Wolf. "Bobby has a special passion and bright new ideas that will help continue the great tradition of leadership, innovation, openness and growth that has marked the history of ACM."

Schnabel says of his new position, "I am delighted to have the opportunity to serve as ACM's next CEO, building on the great contributions of John White. I look forward to working with the incredible volunteers and excellent staff of ACM to make progress on the exciting opportunities and challenges facing ACM, including its evolution as a fully international society, transforming publishing and access models, keeping up with the ever-changing pace of computing research, enhancing diversity, and serving the broad range of technical leaders and practitioners."

Schnabel succeeds John R. White, ACM's first executive director to be named CEO, who will retire after nearly 17 years on July 31. ACM COO Patricia Ryan will serve as acting executive director until Schnabel assumes his new role in November. White joined ACM as CEO after serving for 17 years in various volunteer positions culminating in his term as ACM President (1990 – 1992) while a research manager at Xerox PARC's Computer Science Laboratory.
For more information, please see the full ACM press release.