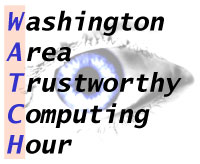 The next WATCH Talk, called Cybersecurity for the Internet of Everything (IoE), is Thursday, June 18, 12:00-1:00 PM EST. The presenter is Bret Hartman, the Vice President & Security Chief Technical Officer at Cisco Systems, Inc. Bret is responsible for defining the corporate security technology strategy for Cisco, as implemented by the Security Business Group. Bret has over thirty years of experience building information security infrastructures, including cloud, virtualization, SOA, Web Services, policy development and management, and security modeling and analysis. He holds a B.S. in Computer Science & Engineering from MIT and an M.S. in Computer Science from the University of Maryland.
Abstract

The next wave of the Internet is disrupting everything and creating new ways to do business. The Internet of Everything (IoE) is changing our daily lives, from the way we provide healthcare to heating our homes to running our manufacturing facilities and other critical infrastructure. The changing nature of computing due to the Digital Economy and the IoE brings tremendous economic opportunity, coupled with tremendous security risk.

In today's world of IoE, cybersecurity is not just a top consideration, but one that is foundational to enabling people and organizations to gain greater value from IoE advancements. As more organizations adopt new business models related to mobility, cloud, and the IoE, their security operations, technologies and solutions must evolve to keep pace and adapt quickly to address these new and unforeseen risks.

Bret will discuss strategies for enabling organizations to implement security controls that offer effective protection for rapidly evolving environments and address security incidents—before, during and after an attack. As part of this discussion, he will outline examples of how these controls can create significant advantages in combatting sophisticated attacks.
The talk will be held in Room 110 at the National Science Foundation in Arlington, VA. No RSVP is necessary, and no visitor badges are required. It will also be webcast; you can register here.