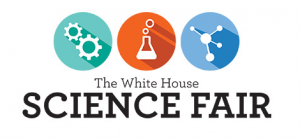 Be sure to tune into the White House Science Fair on Monday to see future computer science researchers like Sreya Atluri, Maureen "Reeny" Botros, and Sophia Sánchez-Maes. They are honored guests at the fifth White House Science Fair and recipients of the NCWIT Award for Aspirations in Computing.
Included at the Science Fair will be a TV personality, Cierra Ramirez who plays Mariana Foster in the ABC Family series, The Fosters. On the show, Cierra's character is learning how to code and will attend a hackathon this season. She is working hard to change stereotypes and be a role model for young girls.
For more information, see the White House Science Fair website. The event will be live streamed starting at 10AM EST on Monday.