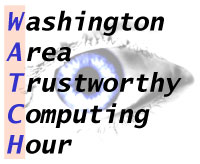 The next WATCH Talk is Thursday, March 19, 12:00-1:00PM EDT. Mary Ellen Callahan, will discuss Cybersecurity and Privacy: Complementary– Not Mutually Exclusive– Concepts. Mary Ellen Callahan, Chair of Jenner & Block's Privacy and Information Governance Practice, has unique and broad experience advising clients at the interface of privacy protection with cybersecurity and national security.  A nationally recognized privacy attorney, she served as Chief Privacy Officer of the U.S. Department of Homeland Security from 2009 until August 2012.  She is a prolific writer and speaker on cutting-edge commercial privacy issues.
Abstract

Cybersecurity information sharing is vital to protect the private and public sector assets. With that said, privacy protections must be in place in order to truly have effective information sharing. Just as assets need to be protected to avoid a cyber attack, so too should privacy protections be established in order to properly protect the information incidentally associated with a cyber attack.  Establishing privacy protections related to the collection, use, sharing and retention of cyber threat indicators is crucial to developing trust among sharing entities.  The former DHS Chief Privacy Officer will describe how the DHS privacy protections are embedded into the cybersecurity architecture at DHS, and how that can be recreated in other environments.
The talk will be held in Room 110 at the National Science Foundation in Arlington, VA.
 No RSVP is necessary, and no visitor badges are required. 
It will also be webcast; you can register here.