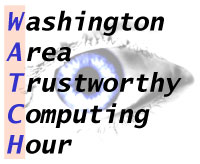 On November 13, the National Science Foundation (NSF) will host it's next Washington Area Trustworthy Computing Hour (WATCH) talk. The talk will be "The burden of authentication: What friction points reveal." The speaker will be Dana Chisnell, from the Center for Civic Design.
From the abstract:
Everyone whines about dealing with passwords and authentication, but what is the real cost to individual users? In a study conducted with 23 people at the National Institute of Standards and Technology, we asked participants to tell us about every time they authenticated in a 24-hour period. From this, we learned that the friction of authentication goes beyond the specific act of authenticating, spilling over into tasks, productivity, and attitudes about compliance as people encountered the wall of disruption created by the enabling task of authentication.
The talk will be held from 12:00-1:00pm EST on Nov 13, 2014 in Room 110 at the National Science Foundation in Arlington, Va. No RSVP is necessary, and no visitor badges are required. NSF is one block from the Ballston Metro. If you drive, parking is available in the NSF building.
The talk will also be webcast; to view the webcast, please register here.