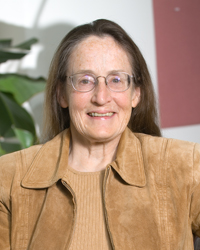 President Barack Obama has selected Mary Shaw, University Professor of Computer Science at Carnegie Mellon University, as one of the recipients of the National Medal of Technology and Innovation. Our Nation's highest honor for achievement and leadership in advancing the fields of science and technology.
Shaw, a computer science faculty member since 1971, is a leader in software engineering research whose work on software architecture helped establish it as a recognized discipline. Selecting an appropriate architecture is now recognized as a critical step in the engineering of complex software systems. She also is an educational innovator who has developed computer science curricula from the introductory to the doctoral level.
The National Medal of Technology and Innovation was created by statute in 1980 and is administered for the White House by the U.S. Department of Commerce's Patent and Trademark Office. The award recognizes those who have made lasting contributions to America's competitiveness and quality of life and helped strengthen the Nation's technological workforce.
To see the full list of National Medal of Technology and Innovation recipients, click here.