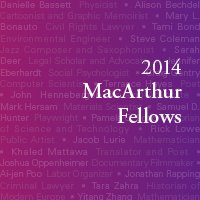 The MacArthur Foundation has named its 2014 class of MacArthur Fellows "Genius Grant", recognizing 21 exceptionally creative individuals with a track record of achievement and the potential for significant contributions in the future.
Fellows will each receive a no-strings-attached stipend of $625,000, paid out over five years. The Fellowship comes with no stipulations or reporting requirements, and allows recipients maximum freedom to follow their own creative visions.
One of the Fellows is Craig Gentry, a computer scientist with IBM Thomas J. Watson Research Center, who is fueling a revolution in cryptography and theoretical computer science through his elegant solutions to some of the discipline's most challenging open problems.
To read more about Dr. Gentry as well as the other 2014 MacArthur Fellows click here.