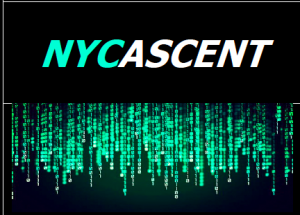 Below is a Press Release from the Columbia University School of Engineering, published September 11, 2014 about the NYC ASCENT Kick Off.
Many of New York City's most promising engineering postdocs joined leading representatives from academia and industry for the launch of NYC ASCENT, a new consortium from Columbia, Cornell, CUNY, and NYU connecting emerging engineers and computer scientists with established colleagues and mentors.

Gathering at the Microsoft Technology Center on September 4, high above Times Square in midtown Manhattan, guests mingled and discussed their work over cocktails and hors d'oeuvres before taking part in a panel discussion on how postdocs can best achieve productive and satisfying careers. Nearly 30 postdocs attended the launch.

Julia Hirschberg, the Percy K. and Vida L. W. Hudson Professor of Computer Science and department chair, kicked off the event detailing NYC ASCENT's goals.

"You just know the acronym has to stand for something," Hirschberg said. "ASCENT stands for Advancing Computer Science Careers through Enhanced Networking and Training, and we are working to develop best practices for the range of engineering postdocs. We will provide career services, help with professional development, and foster entrepreneurship opportunities, in addition to expanding your social and professional networks."

Panelists said postdocs should get comfortable both collaborating and working on their own, and encouraged postdocs to stay passionate by tending to work-life balance and nurturing daily creativity to make new connections and evolve alongside changing fields.

"You should focus on three areas: productivity, visibility, and transition," said Kathleen R. McKeown, Henry and Gertrude Rothschild Professor of Computer Science and director of Columbia's Institute for Data Sciences and Engineering. "Get a lot going while you've still got time, publish, be willing to talk to people about your work, and collaborate so you can look ahead to other directions in your work. And learn to write proposals!"

The panelists suggested that postdocs pursue research that they feel will remain relevant in years to come, rather than chase trendier subjects that might be easier to fund in the short term.

"Watch out for problems that are challenging rather than valuable," said Henning Schulzrinne, Julian Clarence Levi Professor of Mathematical Methods and professor of electrical engineering and computer science. "It can be hard as a junior person to buck the more fashionable topics but over time it's worth it."

In weeks to come, ASCENT will also offer resources for obtaining funding and getting published, travel awards, the introduction of the Individual Development Plan (IDP), and a supplementary curriculum geared to augment leadership and professional skills.

"The conversation among the postdocs and all the participants at the panel was wonderfully candid and heartfelt, touching on many important issues ranging from career work to life quality," said Shih-Fu Chang, Richard Dicker Professor of Electrical Engineering and Computer Science and senior vice dean at the School.  "It marked a great start of the ASCENT activities supporting postdocs in making the best of their endeavors at this fortunate point of their careers."
ASCENT is one of the three programs funded under the CCC/NSF Postdoc Best Practices program.