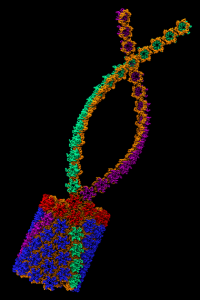 On June 26, the National Science Foundation (NSF) released a Discovery article titled Computing a Cure for HIV, written by Aaron Dubrow, Public Affairs Specialist in the Office of Legislative & Public Affairs.  The article provides an overview of the disease and how it continues to afflict millions of people worldwide.
Over the past decade, scientists have been using the power of supercomputers "to better understand how the HIV virus interacts with the cells it infects, to discover or design new drugs that can attack the virus at its weak spots and even to use genetic information about the exact variants of the virus to develop patient-specific treatments."
Here are 9 projects that are using supercomputing and computational power to help fight the disease:
Modeling HIV: from atoms to actions
Discovery of hidden pocket in HIV protein leads to ideas for new inhibitors
Preventing HIV from reaching its mature state
Crowdsourcing a cure
Virtual screening of HIV inhibitors
Membrane effects
Computing patient-specific treatment methods
Preparing the next generation to continue the fight
A boy and the BEAST
You can read more about these projects in the full article here.