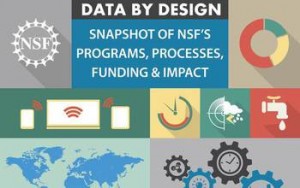 The National Science Foundation (NSF) has recently released a toolkit that describes NSF's investment in fundamental research. It has infographics, fact sheets, brochures, and a video on NSF's merit review process.  One of the infographics highlights a "Day in the Life"-how your daily activities intersect with NSF supported efforts.
The following is from the NSF Press Release.
"NSF's toolkit offers a range of information about the vital work of the Foundation in a compelling way using modern communications methods," said NSF's Office of Legislative and Public Affairs Director Judith Gan. "We encourage the NSF community and the general public to explore the materials we're releasing today to learn more about how the agency helps our nation remain at the competitive forefront of discovery and innovation."
These tools and resources are available for viewing online and can be downloaded from the
toolkit website
.