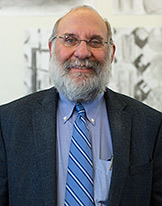 The United States-Israel Educational Foundation, the Fulbright commission for Israel, offers fellowships to American post-doctoral researchers in support of work to be carried out at Israeli universities during the course of the 2015-2017 academic years. While the fellowships are offered to all disciplines, CCC would like to highlight the story of computer scientist David P. Dobkin. In the following post, David reflects on his experience.
At the time of my Fulbright in 2000 I was Phillip Y. Goldman '86 Professor of Computer Science and chair of the Computer Science Department at Princeton University.  My research area has evolved over time from theoretical computer science to computational geometry and on to computer graphics.  While in Israel, I looked into problems involving applying techniques (particularly compression techniques based on wavelets) from some work I had done in computer graphics to some basic problems of computational geometry.  This work was published in 2001 after my return.
When I got my Fulbright to go to Israel, I didn't know much about the country.  I had met many Israeli computer scientists but didn't have either a good sense of the country or of the research universities.  During my 5 months there, I was invited to give a talk at each of the major universities, I also participated in many mini-conferences (e.g. Israelis working in computational geometry and computer graphics gather regularly to have a points and pixels day) and in a few international conferences that were in Israel during the time of my stay.  It was a productive time for me as I enjoyed the quiet time to write papers and rethink parts of my research agenda.
In 2003, I became Dean of the Faculty at Princeton, a job that I have had for the past 11 years but will be giving up on June 30, 2014.  While I have been less involved in day to day research in computer science of the type I did while on my Fulbright, the experience in Israel has informed many of my judgments about academic departments I oversee whose subject matter relates to the region including the departments of Near Eastern Studies, Religion, History and Politics.
My family joined me in Israel, and being away from the business of our American life left us plenty of time for family and to explore the country. It is a fascinating country.
My months in Israel left with personal and professional connections that continue to this day.  Since I was a Fulbright fellow there, I have been invited back several times and have continued collaborations with those I met while there.
Interested in applying for a Fulbright Israel Post-Doctoral Fellowship? Applications are due August 1, 2014. For the full announcement visit: http://j.mp/1nyiHYW.