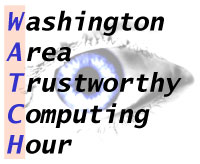 On May 15, the National Science Foundation (NSF) will host it's next Washington Area Trustworthy Computing Hour (WATCH) talk. The talk will be "STAR-Vote – A Secure, Transparent, Auditable and Reliable Voting System." The speaker will be Dan Wallach, professor in the Department of Computer Science and a Rice Scholar at the Baker Institute for Public Policy at Rice University in Houston, Texas.
From the abstract:
STAR-Vote is a collaboration between a number of academics and the Travis County (Austin), Texas elections office, which currently uses a DRE voting system and previously used an optical scan voting system. STAR-Vote represents a rare opportunity for a variety of sophisticated technologies, such as end-to-end cryptography and risk limiting audits, to be designed into a new voting system, from scratch, with a variety of real world constraints, such as election-day vote centers that must support thousands of ballot styles and run all day in the event of a power failure. This paper describes the current design of STAR-Vote which is now largely settled and whose development will soon begin.
The talk will take place May 15, 2014 from  noon – 1 pm EST. To attend virtually, please register here.