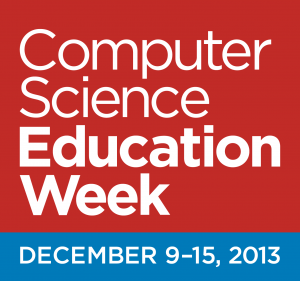 Computer Science Education Week is an annual program designed to show students of all ages the importance of computer science.  It is observed each year, in recognition of the birthday of computing pioneer Admiral Grace Murray Hopper (December 9, 1906).  This year, CSEdWeek is December 9-15, 2013.
As reported in a previous blog post, Code.org is taking the lead this year and promoting the Hour of Code to bring computing to ALL students!  There are many ways to participate and to bring computing to others, through the online tutorials written for students of all levels to creating your own local event, with guidance here.
To kickoff the week, Code.org is hosting Classroom Video Chats throughout the day on Monday, December 9.  Students will be chatting with Bill Gates, Jack Dorsey, Susan Wojcicki, and Gabe Newell.  For a schedule and to view these chats through Google Hangouts, visit here.  These are sure to be engaging and exciting for all students.
What will you be doing next week to engage more students in Computing?