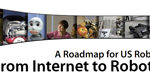 A recent article in the New York Times describes the newer generation of robots that are able to interact with and learn from humans. In the past, factories separated industrial robots from humans to in order to prevent potential injuries.
But now, gentler industrial robots, designed to work and play well with others, are coming out from behind their protective fences to work shoulder-to-shoulder with people. It's an advance made possible by sophisticated algorithms and improvements in sensing technologies like computer vision.

That is in contrast to earlier generations of robots that often required extensive programming to change the smallest details of their routine, said Henrik Christensen, director of the robotics program at the Georgia Institute of Technology.

"Researchers in labs worldwide are building robots that can predict what you'll do next and be ready to give you the best possible assistance," he said.

…

"Robots of the future won't just be in manufacturing. Almost any area could have a robot that would help make our life easier," whether "lifting patients in hospital beds or helping at home.
The Congressional Robotics Caucus recently held a briefing on the Robotics Roadmap 2.0(PDF), a follow up report to the CCC-led Robotics Roadmap (PDF) published in 2009. Henrik Christensen, one of the original co-authors of the CCC-led report, gave an overview of the roadmap in its second iteration.  Click here to view the CRA Policy Blog summary of the briefing.