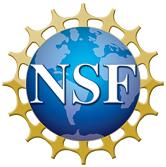 The National Science Foundation (NSF) has issued a solicitation for its Science, Engineering, and Education for Sustainability (SEES) Fellows program, paving the way for funding a second cohort of recent Ph.D.s who wish to pursue interdisciplinary research and education spanning sustainability science and engineering. The program seeks "to advance science, engineering, and education to inform the societal actions needed for environmental and economic sustainability and sustainable human well-being while creating the necessary workforce to address these challenges." In particular:
The program's emphasis is to facilitate investigations that cross traditional disciplinary boundaries and address issues of sustainability through a systems approach, building bridges between academic inquiry, economic growth, and societal needs. The Fellow's proposed investigation must be interdisciplinary and allow him/her to obtain research experience beyond his/her current core disciplinary expertise.
According to the solicitation, "A goal of the SEES Fellows Program is to support research that would not fit neatly into a single NSF disciplinary research program."
Key requirements for the program, which welcomes proposals from computing researchers (or those wishing to extend their work into computing) include (following the link):
Fellows are required to develop a partnership(s) that will advance and broaden the impact/scope of the proposed research. Partners may include, but are not limited to, a NSF Research Coordination Network (RCN), center or facility; industry; National Laboratory; state, regional, or local resource management agency; Non-Government Organization (NGO); foreign institution; or international organization.

Fellows are required to have two mentors, one for the proposed research at the host institution (the institution that will administer the award) and the other for the partnership. The host mentor and partner mentor must be from different institutions, and must provide different disciplinary expertise.

Fellows must also present a plan for their own professional development in the area of sustainability science and engineering. Activities may include, but are not limited to, obtaining training in a new discipline, gaining expertise on new methods/tools, serving in a leadership role in a professional society or industry group, mentoring students, undertaking efforts to broaden participation of under-represented groups in sustainability science, developing an education activity, developing a professional network or working on a project that focuses on public engagement.
In addition, there are several important eligibility criteria, some of which are new from last year's solicitation:
To be eligible to submit a proposal to the NSF SEES Fellows program, an individual must, as of the proposal deadline date, meet all of the following criteria:

Be a U.S. citizen, national, or permanent resident;
Have earned the doctoral degree, or expect to have earned the doctoral degree, by the start date of the award;
Not have worked for more than 36 full-time equivalent months in one or more positions that require the doctoral degree. If more than 36 months have elapsed between conferral of the doctoral degree and the SEES Fellows proposal deadline date, PIs must include specific language in their Biographical Sketch (discussed below) affirming that they meet this eligibility requirement.
Not be employed in a tenure-track (or tenure-track-equivalent) position at an academic institution or at a non-profit, non-degree-granting organization such as a museum, observatory, or research lab.
This year's deadline for proposals — which can seek up to $264,000 in salary and fringe benefits, plus expenses directly related to the proposed research, partnerships, and professional development, based upon 36 months full-time equivalent effort — is Nov. 26th.
To learn more, check out the complete solicitation here.
(Contributed by Erwin Gianchandani, CCC Director)