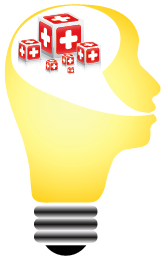 Earlier this month, the Department of Health and Human Services' (DHHS) Center for Medicare & Medicaid Innovation — within the Centers for Medicare & Medicaid Services (CMS) — officially rolled out its Health Care Innovation Challenge, with up to $1 billion in grant funding to those who "implement the most compelling new ideas to deliver better health, improved care, and lower costs to people enrolled in Medicare, Medicaid, and Children's Health Insurance Program (CHIP), particularly those with the highest health care needs."
The objectives of this new initiative are to:
Engage a broad set of innovation partners to identify and test new care delivery and payment models that originate in the field and that produce better care, better health, and reduced cost through improvement for identified target populations.

Identify new models of workforce development and deployment and related training and education that support new models either directly or through new infrastructure activities.

Support innovators who can rapidly deploy care improvement models (within six months of award) through new ventures or expansion of existing efforts to new populations of patients, in conjunction (where possible) with other public and private sector partners.
According to the announcement (after the jump):
Awards will range from approximately $1 million to $30 million for a three-year period. Applications are open to providers, payers, local government, public-private partnerships and multi-payer collaboratives. Each grantee project will be monitored for measurable improvements in quality of care and savings generated.

The Health Care Innovation Challenge will encourage applicants to include new models of workforce development and deployment that efficiently support their service delivery model proposal. Enhanced infrastructure to support more cost effective system-wide function is also a critical component of health care system transformation, and applicants are encouraged to include this as an element of their proposals.
Among the suggested focus areas (emphasis added):
Proposals should be focused on innovative approaches to improving health and lowering costs for high risk/high opportunity populations, including Medicare, Medicaid, and CHIP beneficiaries.  Proposals are encouraged to focus on high cost/high-risk groups including those populations with multiple chronic diseases and/or mental health or substance abuse issues, poor health status due to socio-economic and environmental factors, multiple medical conditions, high cost individuals, or the frail elderly.

Proposals using a service delivery/payment approach should describe the services to be delivered and how payment would be constructed around the delivery model.  The proposals should demonstrate how the service/payment approach being tested relates to benefit designs and/or new payment approaches that CMS can consider for broader application.  CMS also invites applicants to introduce tests of scalability for models known to achieve three-part aim outcomes, that is, proposals to diffuse proven interventions to different or broader populations.  New payment approaches should focus on alternate payment models that do not simply expand fee-for-service payments.  Applicants cannot receive awards for CMS demonstrations, models, or projects that are currently being supported by CMS.

The health care workforce of the future will be highly focused on prevention, care coordination, care process re-engineering, dissemination of best practices, team-based care, community-based care, continuous quality improvement, and the use of data to support new care delivery models. Training and educational experiences will be needed to help develop this knowledge and these skills. Current reimbursement payment policies do not necessarily support such workforce needs.  They can, for example, be prescriptive regarding the type of individuals providing care. Yet there are many care coordination models that utilize less expensive but potentially highly effective individuals who are trained to interact with patients in a focused way to address preventive health and chronic conditions (e.g., community health workers). There is a shortage of such individuals today, even as we are moving toward a health care system based on effective care coordination and prevention.  Additional examples could include but are not limited to: the use of personal and home care aides to help the elderly age at home; expanding the use of community-based paramedics to provide basic services to extend available primary care resources in rural communities; and the use of community-based nurse teams working with primary care practices to provide intensive care management for the most complex patients.

The Innovation Center also recognizes that new types of infrastructure activity are critical to fully achieving the three-part aim.  Enhanced infrastructure is needed to support more effective and efficient system-wide function and the rapid diffusion of best practices. Examples of infrastructure support could include but need not be limited to: models that test the broad implementation of registries; data intermediaries for quality reporting and information sharing to support coordination of care; community-based care coordinating organizations; transparency initiatives; preventive care models; telemedicine and remote monitoring models; medication reconciliation systems; and shared-decision making systems.  Other examples include: Innovation or Improvement Networks or community collaboratives; pre-established networks that bring together providers to create new knowledge and best practices that support the three-part aim.
Key attributes for any proposed approach must be workforce development and deployment; speed to implementation; and model sustainability (e.g., through public-private partnerships, multi-payer approaches, and so on).
Proposals will be independently evaluated on the basis of the anticipated impact on better care and better health; impact on lower costs; and overall performance.
And as an agency spokesperson conveyed in an e-mail to media shortly after the rollout, "Health IT could be an important tool in projects that address some or all of [these] three-part goals of the innovation challenge grant initiative."
Letters of intent are due electronically by Dec. 19; full applications must be submitted by Jan. 27.
To learn more about the Challenge, read the overview, full funding opportunity announcement, and fact sheet. And check out a slideshow from a Nov. 17 webinar (or listen to the audio).
(Contributed by Erwin Gianchandani, CCC Director)