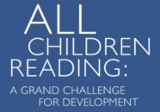 At 10am EST this morning, the U.S. Agency for International Development (USAID) — together with its Australian counterpart AusAID, World Vision U.S., and World Vision Australia, and the U.S. Department of Education (ED) — will launch a $20 million initiative to "focus global attention on finding ground-breaking, scalable innovations that improve early grade reading outcomes for all children in poor countries during the first three years of primary education." Called "All Children Reading: A Grand Challenge for Development," the program will provide catalytic seed grant funding through a competitive selection process to support "pioneering thinking that offers sustainable and scalable solutions for early grade reading."
The initiative will focus on groundbreaking solutions for two key challenge areas — areas with critical and unmet needs in developing world contexts, and with direct links to computing:
Teaching and Learning Materials: Improving the design, production, distribution and use of high-quality, appropriate teaching and learning materials. Innovative and affordable approaches are needed to overcome barriers to the design, production, distribution/delivery, and use of high-quality, durable and consumable materials (narrative, expository, and instructional) in appropriate languages for the primary grades in developing countries.

Education Data: Improving the quality and increasing the accessibility of education data and information to support decision-making, incentives, transparency, and accountability. While there have been significant gains in improving access to primary education in the developing world, there is a growing need for reliable education data to measure whether adequate learning is occurring in the classroom and to ensure that children are leaving school with the right skills and capabilities. The importance of reliable data in ensuring adequate student learning has become increasingly visible over the past few years. Much remains to be done to prioritize and collect performance data, disseminate the data to varied audiences, and support the use of key data for decision-making. Innovations focused on all levels — local, regional, and national — are needed.

To accelerate substantial and sustainable progress towards literacy at the personal, community, and national level, we need to harness imagination and creativity across a broad range of disciplines.
For more details, check out a White House Office of Science and Technology Policy (OSTP) blog post about the new initiative, go directly to the All Children Reading website, or watch this morning's announcement live beginning at 10am EST.
To learn more about other learning tech programs, click here or here.
The Learning Registry
And by the way, in related news, it's worth noting that the Departments of Education and Defense joined forces last week to launch The Learning Registry, "an open source technical system designed to facilitate the exchange of data behind the scenes, and an open community of resource creators, publishers, curators, and consumers who are collaborating to broadly share resources, as well as information about how those resources are used by educators in diverse learning environments across the Web." A key goal: to capture, share, and analyze learning resource data. Check it out here.
(Contributed by Erwin Gianchandani, CCC Director)