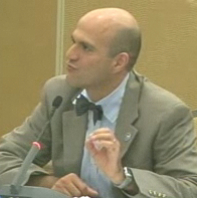 Rounding out a busy Friday in Washington, the President's Council of Advisors on Science and Technology (PCAST) spent time during its meeting yesterday reviewing the Federal government's investment in modernizing the nation's healthcare system. The discussion took place about 9 months after PCAST unveiled a report on health information technology, in which it argued for the need to "change the fact that health IT has historically been oriented toward administrative functions, not better care," and emphasized the potential of real-time, real-world, comprehensive data in enhancing the way we deliver care to patients.
Though yesterday's discussion, much like the original PCAST report, did not focus on the research challenges in health IT — instead, meaningful use of electronic health records was the major emphasis — the update by Farzad Mostashari, the new National Coordinator for Health Information Technology within the Department of Health and Human Services, was nevertheless interesting. As part of his remarks, Mostashari noted the emphasis his office is placing upon secondary use of health data (including for research purposes):
The big picture in terms of health IT is that we are experiencing dramatic and positive movement after decades of belief that better information systems could be — and should be — applied to the medical field. In the past two and one-half years, sparked by the HITECH Act and the health IT incentive payments for Medicare and Medicaid providers and hospitals… there has been a dramatic acceleration that really feels as if the ice is broken. And we are seeing increases in uptick of electronic health records, adoption of EHRs, [and] the growth in the health IT marketplace — and some of that is due to, I think, the systems that we've put in place to support it.

Payment changes mean that doctors and hospitals don't have to go broke providing better, safer, more coordinated care keeping patients healthier — which is the way the situation has been to date. You spent more time with the patient, with the support of technology and information systems to help them manage their medications, to help them quit smoking, [and] you lose money currently. That is not going to continue to be the case.

And that has provided the single-biggest change in terms of the marketplace — now we see a whole new host of products and services that are building out on top of the basic raw data that is turning electronic through the electronic health record projects. And on top of that data we are seeing emerging industries, emerging sectors, emerging applications — to help providers manage the care of their patients, to help do population health management and analytics — and that goes to the heart of [PCAST's] recommendations.

The heart of [PCAST's] recommendations [was] that the information that is collected as a routine part of clinical care should be able to be reused for population purposes — that those basic building blocks should be able to be used for population analytics, for a learning healthcare system, for patient management — on top of that data. And I think we are seeing now exactly that confluence that we had hoped and [for which we had] supported your vision.
Mostashari was joined by U.S. Chief Technology Officer Aneesh Chopra, who emphasized the involvement of several leading computer scientists — including Paul Egerman, Bill Stead, Bob Kahn, and Vint Cerf — in the consideration of privacy and security issues that fed into specific rule-making recommendations for the next stage of meaningful use.
To learn more, watch the archived webcast of PCAST's health IT discussion here.
(Contributed by Erwin Gianchandani, CCC Director)