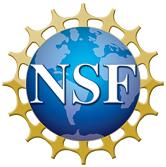 As we've previously reported in this space, the National Science Foundation (NSF) recently issued a series of solicitations as part of its multi-year Science, Engineering, and Education for Sustainability (SEES) initiative. Today the NSF's CISE Directorate announced that it will be holding a pair of webinars later this month and early next month to provide an overview of these solicitations for researchers — with a particular focus on details that are likely to be of interest to the CISE community:
The main purpose of [these webinars] is to help the CISE community to take advantage of the interdisciplinary research funding opportunities for FY 12 in [this] emerging area…
Details about the webinars — including instructions for registering (advance registration is required!) — after the jump:
NSF will hold two webinars with essentially the same content. In order to attend, you must register for the session that suits you best, using the URL given below, by the specified deadline. After your registration is accepted, you will get an email with a URL to join the meeting. Please be sure to join a few minutes before the start of the webinar. This system does not establish a voice connection on your computer; instead, your acceptance message will have a toll-free phone number that you will be prompted to call after joining.

Please note that the registration has been set up as a manual process; therefore, do not expect an immediate acceptance. In the event of the number of requests exceed the capacity, some requests may be denied.

Session 1: September 27, 2011, 3:00-4:45pm EDT (12:00-1:45pm PDT)
Registration deadline: Sept 26, 2011, 11:59pm PDT
Register here

Session 2: October 11, 2011, 3:00-4:45pm EDT (12:00-1:45pm PDT)
Registration deadline: Oct 10, 2011, 11:59pm PDT
Register here
In the meantime, see a previous blog post for more information about the SEES solicitations that have been issued.
And to learn more about the fundamental computing research challenges in sustainability, review the report that resulted from a February 2011 NSF/CCC Workshop on the Role of Information Sciences and Engineering in Sustainability (RISES) as well as a brochure the CCC has produced on the subject.
(Contributed by Erwin Gianchandani, CCC Director)