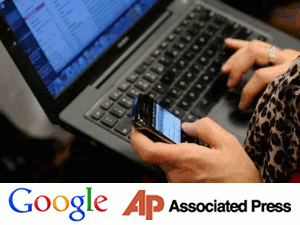 The Associated Press and Google have teamed up to create Journalism and Technology Scholarships that foster digital and new media skills in student journalists. The scholarships will provide $20,000 to six promising undergraduate or graduate students pursuing or planning to pursue degrees at the intersection of journalism, computer science and new media during the 2012-2013 academic year.
Have you created original journalistic content with computer science elements? Do you have an idea to develop new ways of telling a story with technology? Are you a "techie" who knows how to construct a journalistic story through multimedia? If you're on the cutting edge of digital media beyond the classroom, this scholarship is for you!

The scholarship committee is looking for projects or concepts that show innovation and creativity. Applicants should explain how [their strategies move] digital journalism forward or [provide] valuable lessons or outcomes.

Here are just a few ideas:

Data visualization
Data mining
Mobile devices and applications
3-D storytelling
Digital ethics
Crowdsourcing
HTML5
Micro computers
Applicants must be U.S. citizens at least 18 years old, be enrolled full-time at accredited U.S. post-secondary institutions at the college sophomore level or higher, and have at least one year of study remaining. The deadline to apply is 11:59pm ET on January 27, 2012.
For complete details about the program, eligibility requirements, and application instructions, click here.
(Contributed by Erwin Gianchandani, CCC Director)