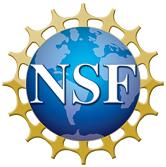 The National Science Foundation (NSF) has issued a new solicitation for Partnerships for International Research and Education (PIRE), a Foundation-wide program that supports international activities across all NSF-funded disciplines including CISE. The focus of the this year's PIRE RFP is on the NSF-wide investment in sustainability (Science, Engineering, and Education of Sustainability, or SEES):
Recognizing the value of international partnerships in addressing critical science and engineering questions, NSF established the Partnerships in International Research and Education (PIRE) program in 2005. PIRE is an NSF-wide program that supports fundamental, interdisciplinary, international research and education in physical, living, human, and engineered systems. PIRE enables research at the leading edge of science and engineering by partnering with others nationally and internationally, by educating and preparing a diverse, world-class STEM workforce, and by fostering institutional capacity for international collaboration. This agenda is designed to encourage high-risk/high-reward activities and pursues potentially transformative ideas.

International engagement will be critical to keeping the U.S. globally competitive at the frontiers of knowledge. As science and engineering expertise and infrastructure advance across the globe, it is expected that the U.S. will increasingly benefit from international collaborations and a globally engaged workforce leading to transformational science and engineering breakthroughs. Therefore, PIRE will promote cooperation among scientists and engineers from all nations and will fund international collaborative activities through all areas of research supported by the NSF. NSF PIRE is also working with counterpart funding agencies in other countries to lower barriers to collaboration of U.S scientists, engineers and students, and encourage jointly funded, bilateral and multilateral projects.

This fourth round of the PIRE competition will focus exclusively on the NSF-wide investment area of Science, Engineering, and Education for Sustainability (SEES). A sustainable world is one in which human needs are met equitably without harm to the environment, and without sacrificing the ability of future generations to meet their needs. Meeting this formidable challenge requires a substantial increase in our understanding of the integrated system of society, the natural world, and the alterations humans bring to Earth. NSF's Science, Engineering, and Education for Sustainability (SEES) activities aim to address this need through support for interdisciplinary research and education in all fields of science and engineering. Especially encouraged is research on global sustainability issues including, but not limited to, climate change, clean energy, food security, biodiversity, and communication networks.

Fundamental to all sustainability research is the simultaneous consideration of social, economic, and environmental systems and the long-term viability of those systems. Concepts that underlie the science of sustainability include complex adaptive systems theory, emergent behavior, multi-scale processes, as well as the vulnerability, adaptive capacity, and resilience of coupled human-environment systems.

SEES activities span the entire range of scientific domains at NSF and aim to: 1) support interdisciplinary research and education that can facilitate the move towards global sustainability; 2) build linkages among existing projects and partners and add new participants in the sustainability research enterprise; and 3) develop a workforce trained in the interdisciplinary scholarship needed to understand and address the complex issues of sustainability. More information about NSF's SEES investment area may be found on the SEES webpage and the NSF Dear Colleague Letter for the Science, Engineering and Education for Sustainability (SEES) NSF-Wide Investment Area.
Pre-proposals are required by Oct. 19, and full proposals will be due May 15, 2012. NSF anticipates making 10 to 15 awards, each on the order of $4 million over five years.
For more details, check out the full solicitation and the accompanying FAQs. And attend a live Webinar on Thursday, July 28, at 3pm EDT to learn more.
As we've previously noted here and here, there are plenty of research opportunities at the intersection of computing and sustainability — and I encourage you to think about these in the context of this solicitation.
(Contributed by Erwin Gianchandani, CCC Director)