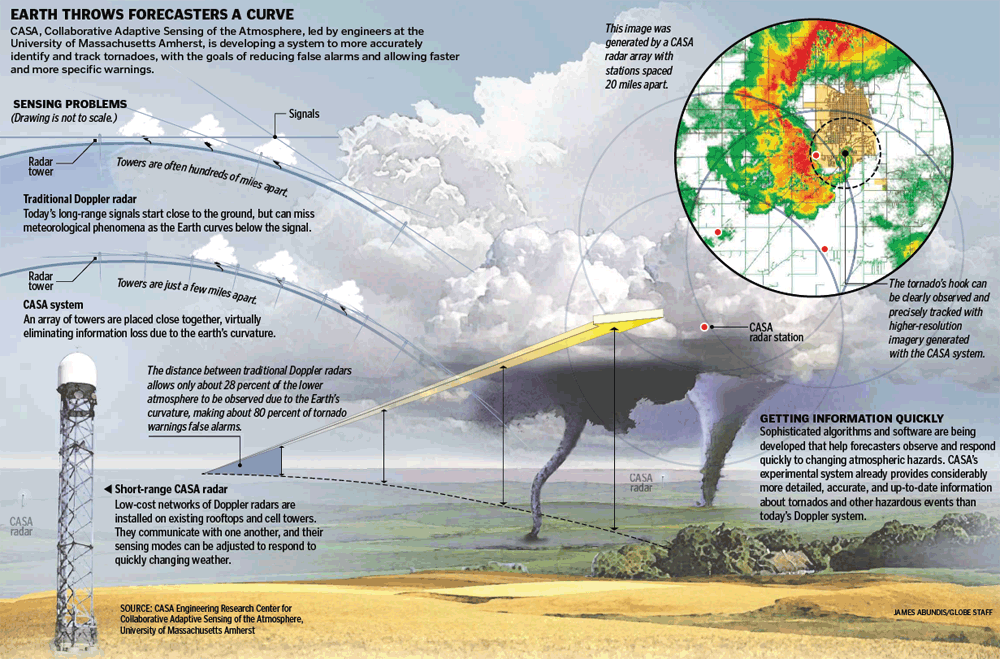 Updated Friday, June 17, 9:03am EDT: NPR has picked up this story, reporting on today's "Morning Edition" how the research being pursued by Michael Zink et al. at UMass-Amherst could lead to advanced warning systems that reduce the numbers of deaths arising from severe weather outbreaks. Check out the NPR feature (which includes audio): "Advanced Tornado Technology Could Reduce Deaths."
The original blog entry from earlier this week appears below…
…
There's a very timely story in today's Boston Globe featuring the work of Michael Zink and his colleagues at UMass-Amherst, who are developing — with funding from the NSF — a better severe weather warning system that gives geographically specific, actionable information to forecasters as well as the general public.
As the article states:
…The current [nationwide Doppler weather radar] system, called NEXRAD and deployed in the 1990s at a cost of $2 billion, has significant coverage gaps and provides coarse-grain data.

NEXRAD uses 159 high-powered radars, positioned atop towers about 200 miles apart, to cover the country. It offers a good big-picture perspective… but because of the radars' elevation and the Earth's curvature, it can't see storms close to the ground.

The Dopplers also take a relatively long time to do their 360-degree scans, updating weather data only every five minutes. For fast-moving storms, that's too long…
Instead, UMass-Amherst's 10-year Engineering Research Center (ERC) for Collaborative Adaptive Sensing of the Atmosphere (CASA) is developing a
system [that] uses lower-power, X-band radars placed as low as 20 feet off the ground (in Oklahoma, where it's flat), about 20 miles apart, each with a 25-mile range, so there is overlap. The radars feed data into a closed-loop system with software that uses algorithms to detect trouble spots and can put the radars into "sector scan'' mode to focus on specific areas.

As a result… updates can be much quicker, down to 15 seconds. The images are also finer-grained: What gets a few pixels in NEXRAD is shown as a distinct image in CASA.
The CASA team's long-term goal is "to build a nationwide network of 1,000 to 10,000 small radars linked to a common, publicly accessible system." Though there are still hurdles left — including bringing the cost of the technology down to the target price ($1 billion for the full network) and persuading potential users to make such an investment — it's clear the basic concept is already meeting with much success.
"We've shown that we can follow the vortex of a tornado down to the ground and follow it down individual streets, because of the resolution of the system,'' [CASA director David] McLaughlin said…

CASA has published hundreds of papers and gotten validation from a National Research Council review…

"I think we saved lives on May 24,'' said [Lee] Kuhlman [who leads a team of National Weather Service-trained storm spotters in Newcastle, OK — and used the experimental radar system deployed there during the recent tornado outbreak].
Check out the full Globe feature here.
(Contributed by Erwin Gianchandani, CCC Director)