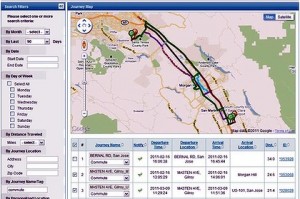 We've blogged about exciting computing innovations to improve transportation before — and there's word this week about related work being pursued by researchers at IBM.  In collaboration with California highway officials and colleagues at the University of California-Berkeley, the researchers are pioneering predictive models of traffic patterns, derived from location information of individuals' smart phones.  A key goal is to predict traffic delays with high precision before they develop based on historical data, as opposed to displaying current traffic information in near-real time.  While the IBM/Caltrans/Berkeley effort has thus far focused on smartphone users and traffic in Northern California, the researchers believe the approach is broadly extensible.
The researchers will leverage a first-of-its-kind learning and predictive analytics tool called the Traffic Prediction Tool (TPT) … which continuously analyzes congestion data, commuter locations and expected travel start times throughout a metropolitan region that can affect commuters on highways, rail-lines and urban roads. Through this Smarter Traveler Research Initiative, scientists could eventually recommend better ways to get to a destination, including directions to a nearby mass transit station, whether a train is predicted to be on time and whether parking is predicted to be available at the station.

…Alerts will enable drivers to plan and share alternative travel routes, improve traveler safety and help transportation authorities better predict and reduce bumper-to-bumper traffic before congestion occurs through improved traffic signal timing, ramp metering and route planning.
Learn more about the TPT here — and check out the video below.  It's but one of many examples of the role of CISE research in sustainability — and we'll have more on that in this space in the coming weeks!
(Contributed by Erwin Gianchandani, CCC Director)