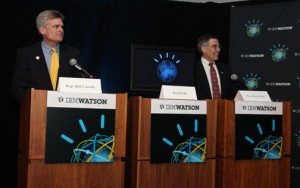 Congressman Rush Holt of New Jersey – the only physicist in Congress, one of the staunchest Congressional supporters of science, recipient of this year's Philip Hauge Abelson Award from the American Association for the Advancement of Science, and a five-time Jeopardy! champion – has defeated IBM's Watson AI system at Jeopardy!
As much as we value the extraordinary accomplishments of Watson and of the AI field, score one for the people!  We need more of them like Rush Holt in Congress!
Read about the match here.