A few interesting news stories in the past week:
What is "Watson"?
Word came on Tuesday that "Watson," an IBM supercomputer system, will take on Ken Jennings and Brad Rutter — the two most successful players in "Jeopardy" history — on three episodes of the show slated for broadcast Feb. 14-16, 2011.
As we've previously highlighted in this space, the New York Times Magazine profiled "Watson" this past summer.  In that article, the Times Magazine provided a step-by-step account of the AI/machine learning challenges and advances underlying the development of the advanced "question answering" machine.
Now, in the man v. man v. machine challenge scheduled to air early next year, a total of $1 million will be up for grabs.  If "Watson" wins, all of the money will be donated to charity.  If either Jennings or Rutter wins, half the prize will be donated to charity.
In recent months, "Watson" has been playing with other former "Jeopardy" contestants — and we'll soon get a preview of what to expect in February when IBM posts highlights from these practice games on its website in the coming weeks.
The Status of Graduate Education
On Thursday, The Economist published an interesting exposé about "genuine problems with the system that produces research doctorates."  The article touches on changing supply and demand issues, recent job prospects for newly-minted PhDs, new training requirements for PhDs who end up in non-academic positions, and an apparent decreasing premium on pursuing a PhD.
There's already an interesting debate about this article — titled "The disposable academic" — on The Economist's website:  http://www.economist.com/node/17723223/comments#comments.
Cameras of the Future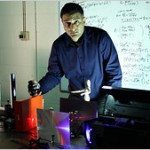 And The New York Times on Saturday described the emerging field of "computational photography," which may soon "guide rescue robots… endoscopes that need to peer around artery blockages… or the focus of a picture you've already taken."
The Times' story describes research on how to "design a camera that goes hand in hand with computation to create a new kind of picture."  Among the projects highlighted is one by MIT's Ramesh Raskar, who is combining mathematical modeling with advanced lasers to deduce the structure of objects otherwise obscured from the view of a camera lens — and could ultimately lead to cameras with the kinds of promise described above.
The article goes on to highlight nominally priced apps already being sold at Apple's iTunes store as signs of the potential of computational photography.  For example, it points to "True HDR" and "Pro HDR," which can combine photos shot at different exposures using high dynamic range to create images that normally cannot be attained within a single shot.
Check out these stories and comment on them below.
(Contributed by Erwin Gianchandani, CCC Director)