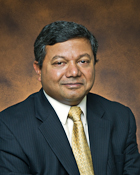 Arun Majumdar, the Director of ARPA-E, spoke at the University of Washington on February 18th regarding the energy challenges facing our nation. While his talk was not specifically oriented towards computer scientists, it is inspirational, and it is obvious that a broad range of advances in computer science are essential to creating a sustainable future for our nation and our world.
ARPA-E is a new office of the Department of Energy focused on extramural breakthrough research, in the DARPA tradition.
Watch Majumdar's talk here. See white papers on the essential role of computing research here, here, and here.